River Run Pullover
Not only am I enamoured with this sweater because it is so beautiful, it also won First Prize in its category at the Topsfield Fair in October 1998! It is made from Cherry Tree Hill Yarn, from two potluck skeins in the River Run colorway.
Hint to knitters: I got the hand painted yarn to behave so well by using balls wound from each of the skeins and alternating my source every 3rd row. I would knit two rows from one, then two rows from the other. I wound the skeins into balls by hand and marked them with tags as 1 or two and then just set up to alternate. The yarn carrys along the side (I worked back and forth instead of in the round) and the extra yarn from swapping disappears in the seam.
The ribbing is a crossed cable rib, to further enhance waves and the River theme of the sweater.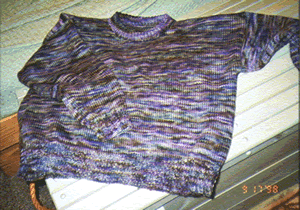 Here is a close up of the shoulder and neck to show (I hope) more clearly the nice blending of the hand painted yarns